Principal's Corner
Principal Brian Johnson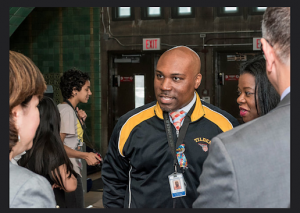 "Hear Us Roar"
Dear Tilden Middle School Community,
I want to extend to you and your family a very warm welcome to Tilden Middle School. The middle years are an exciting time when children embark upon new adventures in the world of learning. Each year will provide important transitions and the acquisition of new skills that will enhance each student's ability to apply learning in many ways. Tilden Middle School is committed to providing a challenging and rigorous curriculum that helps each student progress at a developmentally appropriate rate and provides a safe environment for all students.
Our VISION for Tilden Middle School students is for them to: achieve the highest levels of academic growth; be well rounded in their interests and abilities; and be recognized in the community for outstanding leadership.
Teaching and learning offers us all numerous opportunities to focus on a number of "small things" that culminate over time to produce students that are prepared to do the "great things" of life. With this in mind, ultimately as a school community we are judged by the actions of our students and the way new student learning connects and impacts the world beyond our school. As a Community School, we are committed to integrating Blended Learning and Student Leadership into learning opportunities because we believe that we learn better with and through these opportunities. Our mission statement reflects this commitment:
"Our MISSION at Tilden Middle School is to provide a rigorous and engaging learning environment in every classroom that nurtures leadership, perseverance, integrity, curiosity, and kindness in order for our students to discover, develop, and communicate the skills and content necessary for college and career success in the 21st Century."
At Tilden, we value life-long learning and aim to make your child's learning experience engaging and exciting. The faculty here at Tilden is comprised of some of the most caring and dedicated professionals I have ever met. As a faculty, we share a collective commitment to ensuring that all students experience a tremendous amount of academic, social, and emotional growth. We work hard to achieve this audacious goal by providing a nurturing environment for each student's growth while engaged in our own continual growth as a faculty. We support one another in our efforts to meet the diverse needs that students present, challenge one another to be our best selves, and ultimately grow together as a collaborative team of professionals as a result. As a team, we hold one another accountable for not only teaching these valuable lessons, but modeling them through our everyday actions and reinforcing these attributes when students exemplify them on a consistent basis.
It is truly a pleasure to serve and be a part of this amazing community of learners.
On behalf of our students, families, and staff I would like to thank you for visiting our school website. As you learn more about us, I hope that you are motivated to come learn alongside us as we Achieve, Lead, and Grow…TOGETHER!
Mr. Brian R. Johnson
Principal
Tilden Middle School
School 215-400-8170
Fax 215-400-8171